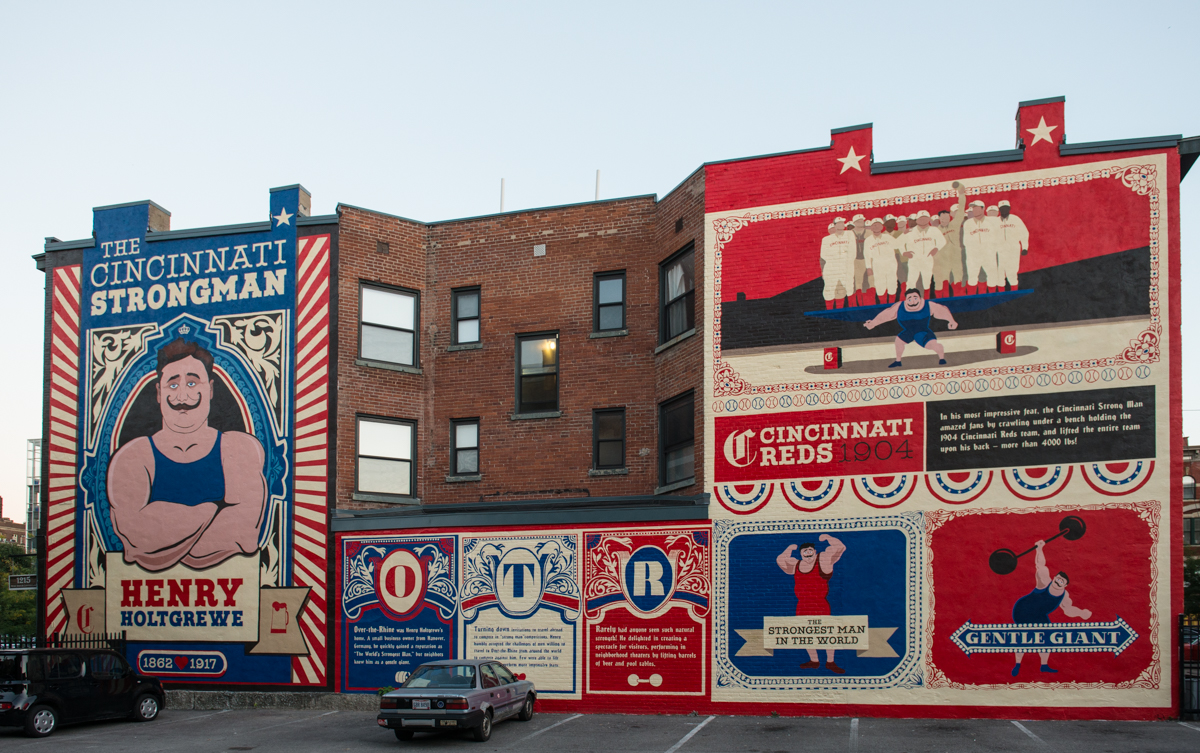 Cincinnati has a rich cultural heritage and it is depicted in mural paintings all over the city.  Winter is a great time to visit Cincinnati because the city lights up beautifully during Christmas holidays. Though there are more than 100 places where murals are done to make the place look aesthetically appealing, there are some places that one must visit if in Cincinnati, Ohio. You can easily walk past these murals without any help and ArtWorks Cincinnati also offers two guided tours to support.
Near Kroger supermarket headquarters, fresh harvest is drawn which seems to fall out of the wall demonstrating excellent dramatic effects of lighting.
Another one at walnut street shows residents looking down from their windows exclaiming 'What's going on'
In Over-The-Rhine neighborhood, famous politicianMr. Jim Tarbell is drawn welcoming everyone to Cincinnati by tippinghis hat
Depicting the importance of conservation of species, Martha the Last Passenger Pigeon is drawn flying over the Cincinnati zoo. This is not an original painting but is reproduced form of a painting by by John A. Ruthven.
Charley Harper's Homecoming Blue Birds at court street is very popular
The Singing Mural at Central Parkway is an indication of the rich arts and musical history of Cincinnati
Close to the Great American Ball Park, The Cobbler's Apprentice by Frank Duveneck is drawn holding a baseball bat
Other murals to look out for are – Tom Wesselmann Still Life, Cincinnati's Table on the wall of famous Jean-Robert's Table restaurant and Ice Cream Daydream that stands out and makes your mouth water instantly.
Cincinnati loves lights and there are innumerable places where you can enjoy light festivals and decorations. Here are a few noteworthy places to visit for watching lights without spending a lot of money on the entertainment. Most options do not require you to leave the comfort of your vehicle which makes it a very suitable choice on a cold winter night.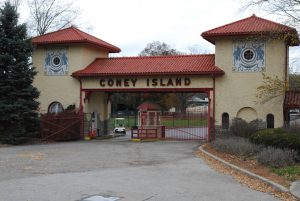 Coney Island offers a 2-mile ride that you can enjoy from the warmth of your own car. The lights are in sync with your choice of holiday music and the display is available from November 11, 2016 to January 1, 2017. Similar drive through display is available at Sharon Woods from November 18, 2016 to January 2, 2017. While Coney Island displays trees, canes and other objects, Sharon Woods is more Christmas character themed with animals, Santa and his elves.Pyramid Hill Sculpture Park & Museum is flooded with lights and lasers from November 18, 2016 to January 3, 2017. Other places you can visit are Cincinnati Zoo and Newport on the Levee for a variety of light displays.
Fountain square is a picturesque site and Macy's downtown dazzle on Saturdays makes it even more interesting place to visit. There are fireworks and lighting effects along with local music performances. Available only from November 26 to December 10, 2016. Creation Museum runs a Christmas special star planetarium show during this time from December 16th to December 30th, 2016.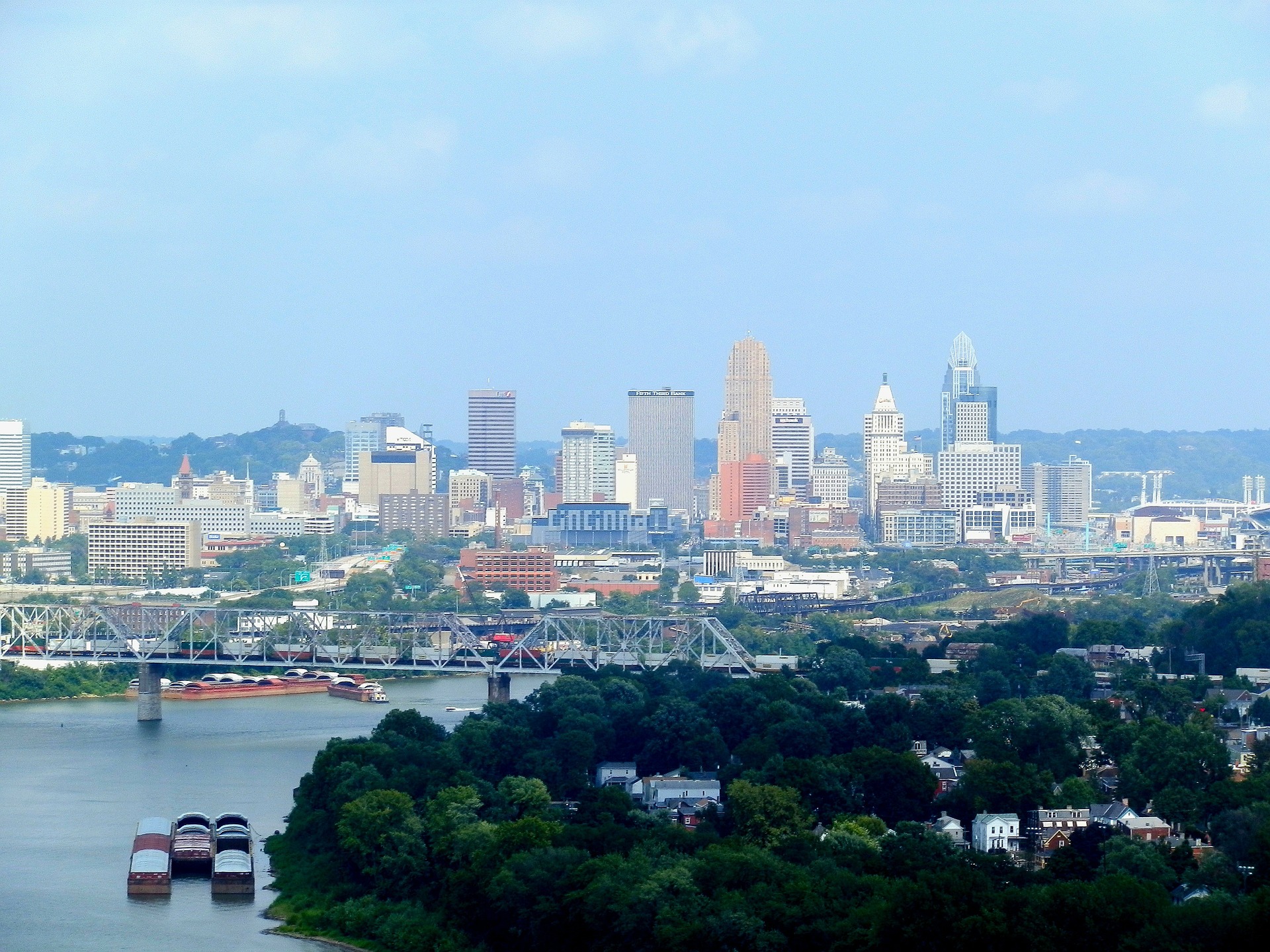 Your trip to Cincinnati, Ohio could be a romantic couple holiday or a family vacation but it will be an educational one. You can go around visiting art galleries, museums, theatres or visit science museums, conservatory, observatory or amusement park as per your preferences.
Cincinnati has the oldest art museums in America that is flooded with artists and art lovers throughout the year. It has more than 65,000 works from last 6 centuries and includes works by great European artists. It offers different activities and events for kids and adults many of which are free of cost.
The Taft museum of art is actually an old house built in Greek revival style that was donated by the Tafts who were great lovers of art in 1927. It hosts art works from American as well as European artists. The activities here include walking tours, live music, gallery talks and afternoon presentations by local artists from time to time.
Cincinnati is also a hub of performing arts and there are many theatres that preserve the traditional forms of art including theater, visual art, dance, drama, film and poetry. Cincinnati Music Hall, located in Over-the-Rhine area, is a beautiful building built in 1878 and is known for hosting a number of concerts over the decades. It also hosts the May Festival along with the Cincinnati Ballet, the Cincinnati Opera, the Cincinnati Symphony Orchestra and the Cincinnati Pops Orchestra.
If you happen to be there at the right time, the Cincinnati Fringe Festival should not be missed.  It is celebrated in collaboration by multiple artists and groups and is produced by the Know Theater of Cincinnati.
Places like Fountain Square, Eden Park and John A. Roebling Suspension Bridge are themselves great work of art and one can spend a lot of time around them, enjoying the ambience. The Cincinnati Observatory is a National Historic Landmark and caters to 21st century astronomy and science. Formerly known as Eden Park Greenhouse, the Krohn Conservatory has around 3,500 plant species to look and learn about. If you are there, make sure you do not miss the international butterfly show.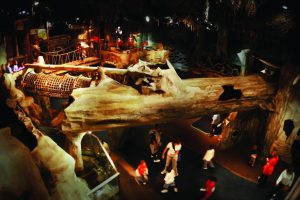 The Duke Energy Children's Museum is ideal for preschoolers and if you are travelling with kids, it will give them enough activity to have a good night's sleep later. Baseball lovers can find some interesting information at Cincinnati Reds Hall of Fame & Museum and also click some cool pictures. Museum of Natural History & Science is great for learners and explorers, irrespective of age. The American Sign Museum showcases signage from the past and also displays the art of sign making.
While the kids and kids at heart enjoy at Coney Island Amusement Park rides, others can enjoy the scenic view of the Ohio river. Many festivals are also organized in this area, you might be able to catch one of them based on the time of visit. Your trip to Cincinnati cannot be complete without visiting the Cincinnati zoo that is spread over 65 acres and houses more than 2000 animals. The zoo is 140 years old and is well-known for its breeding programs.
What is there to do in Cincinnati?
The beautiful and vibrant city is situated in the heart of Ohio State, US. The location of the city is extremely scenic and full of attractions. As far as the amusing things are concerned, the choice is completely in your hands. There is an endless selection of different events and attractions available. The variety ranges from the fabulous amusement parks to professional sports activities. You can also choose from the different museums and 5-star dining with global appeal. Whatever your schedule and budget are, there is something waiting for you to make your travel unforgettable and mesmerizing.
What is the best time to travel to Cincinnati, Ohio?
Well, the place is tremendously beautiful. So, you can travel any time all year. But, to capture the attractions at their best, there are specific seasons for everything. For Example, you can beat the heat when sports activities are at their highest point during the summer. You can enjoy the baseball games of the local team Cincinnati Reds at the most popular park, The Great American Ball Park. The lovely park is situated on the riverfront and then turn next door to the Smale Riverfront Park.
You can also fill your life with the natural colors by viewing theincredible foliage. The entire view is just breathtaking from the fabulous BB Riverboats cruise. The best time to view all these fabulous views is late September and the beginning of the October. You canmake your holidays more memorable by visiting the famous Cincinnati Zoo and Botanical Garden. For this place, December is the most appropriate time.
Is this city is famous for any specific foods?
Yes ofcourse!Like other places, this gorgeous city is also popular for the food. There are lots of unique flavors available. The range includes Goetta, Cincinnati style chili, barbecue sauces and most popular French pot icecream. Even, the city is considered as the finest place to enjoy comfort food.The city is the fastest growing destination for foodies.
The city has countless options for dining. Due to the effective renewal of food-chain stores and restaurants, there are a plenty of options available to kill your hunger.You can enjoy both affordable and high-class dining in this city.
What are the best shopper points in Cincinnati?
Well, it is all your choice because the stylish city also offers the same trends to you. Whether you are searching affordable deals on popular brands or antique pieces or you want something authentic Cincinnati, the city has everything for you. You can start for the day and walk around at the local outlet stores, boutiques and shopping centers. If you are a Shopaholic, you can even explore more. There is an assurance and it is you won't go house empty-handed.
Findlay Market is the oldest and most cherished market in the entire state. To buy handmade stuff, the place has been the just right. Liberty Center is another good option to enjoy the complete package of shopping, relaxing, food and entertainment. There are many retailers available, including H&M, Old Navy,Hollister, Buckle and lots more. Over and all, you can feel the best shopping experience here in Cincinnati.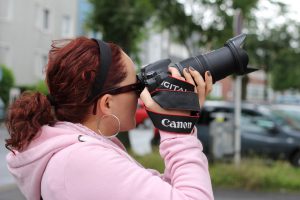 Hey there! If you are wondering, if Cincinnati is the place to go, please take a while for a quick "rollercoaster" by reading about its attractions below. Cincinnati, originally Losantiville ( meaning "opposite of the mouth of the river"), is a city beautifully placed by the Ohio river in the south-west side of the Ohio state in the U.S.A. and it has much to offer to its visitors.
If you are hungry for a good breakfast, it is always a good idea to visit Sugar N' Spice, a place with tradition, that lasted for more than 70 years and not without a good reasons.
If you already read The Cincinnati Enquirer, the noon has become a past or you simply want to eat something tasty, you should definitely go to the Findlay Market, Jungle Jim's International Market. If you like chilli, try Price Hill Chili, Skyline or Gold Star. Gourment pizza is Dewey's domain and you can taste wide variety of grilled cheese at Tom + Chee.For the desserts it is always a good idea to go to the Greater's – best ice cream in The Queen City.
For those, who like beer it is good to know that Oktoberfest Zinzinnati takes place in Cinci and that there are various local breweries like Christian Moerlein, Hudepohl and Carmel Brewing Company. You can also take one of Cincinnati's Original Brewery Tours into the underground places of the breweries.
There are many pubs in Cinci, open with all their goods, among more known are the Nicholson's Tavern & Pub, Molly Malone's Irish Pub & Restaurant and Taft's Ale House.
If you like Halloween, visit Cinci with your best outfit for the Run Like Hell event – the massive Halloween event, after which you may count on a good after party.
The sports events play important role in Cinci. The opening day for the Cincinnati Reds plays important role in the city's culture. You can also come to see the ATP/WTA tennis tournament, Kentucky Speedway, Cincinnati Roller Girls, Bengals and Cyclones.
Cincinnati Art Museum is one of the oldest art museums in the U.S.A. (founded in 1881). Just to name few cultural locations: Cincinnati Opera placed in Cincinnati Music Hall, Aronoff Center, Cincinnati Symphony Orchestra and, last but not least, Cincinnati Museum Center.
If you would like some more cultural experiences then it is good to know that there is Playhouse in the Park theatre, located in Eden Park, comprising Robert S. Marx Theatre and Thompson Shelterhouse. There is also the Esquire Theatre, where you can see the latest independent features or midnight showings.Fans of The Ides of March, Traffic and Rain Man movies will recognize various places of Cinci, a place that had Jerry Springer as its mayor.
After reading all the above you see that Cincinnati has much to offer. If you got interested, then if you get close to Ohio, come visit Cinci and enjoy.