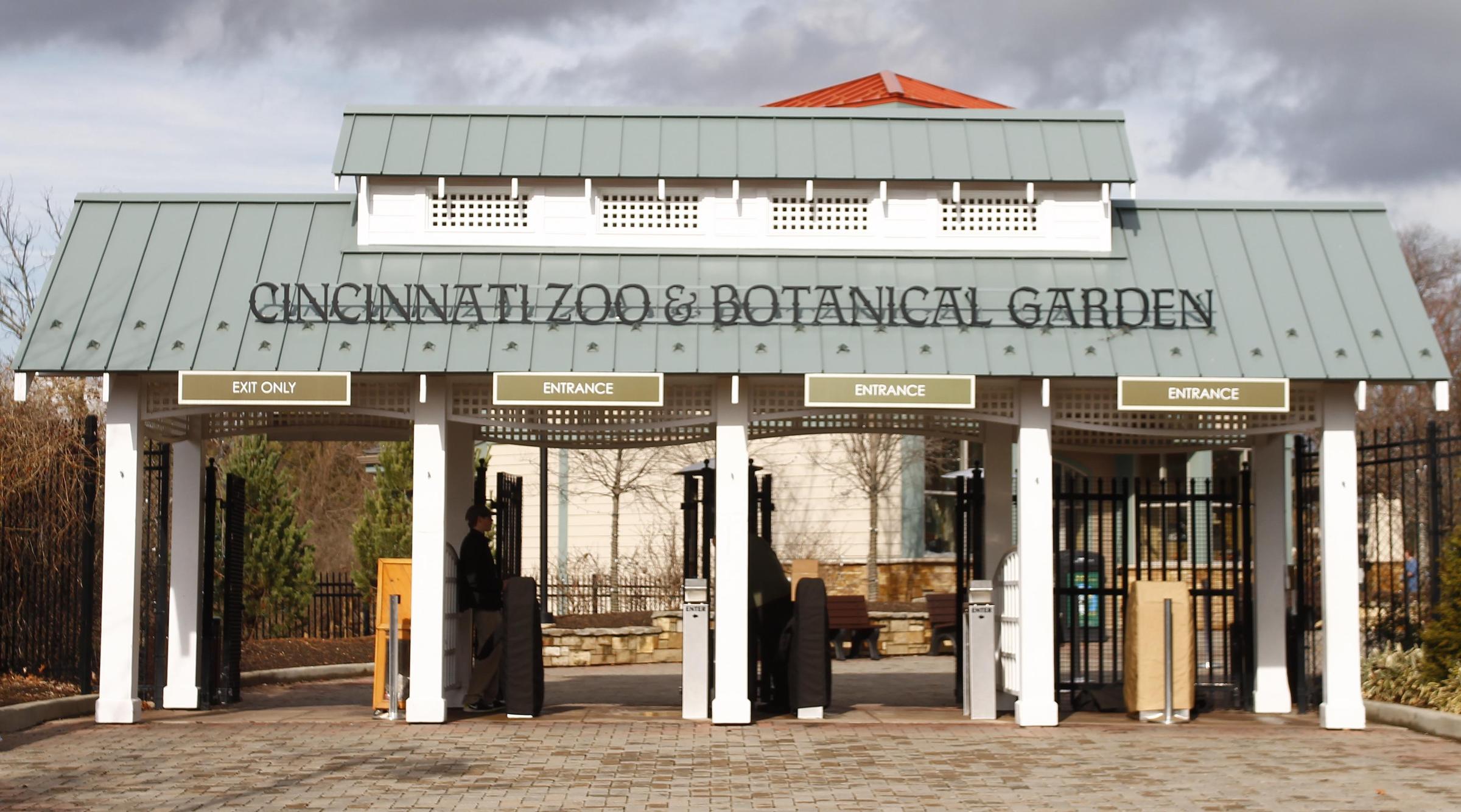 Cincinnati, Ohio is a good holiday destination for the entire family including kids. There are enough activities in the city to keep the entire family occupied and entertained. Here is a list of attractions that you must include in your trip if you are travelling with your kids.
Cincinnati Zoo & Botanical Garden
It is not just the children but the adults also who enjoy watching different species on animals and birds at one place. Animal species from around the world are housed in the second oldest zoo of America which is Cincinnati Zoo. The animals here are well trained and are very friendly, one could spend hours watching them play or feeding them. The zoo is spread over 65000 acres and you are sure to have a fun time here.
Coney Island
Coney Island amusement park is one of the most fun places in Cincinnati, especially for the kids. There are some unique rides like Tilt-a-Whirl and Wipe Out Thrill ride which should not be missed. There is a huge recirculation pool called the Sunlite Pool, an arcade and bungee jumping which are the most popular attractions here. Kids and adults find it hard to decide what ride they like best and want to visit again and again.
EnterTRAINment Junction
While a trip to Disneyland would require more time and money, EnterTRAINment Junction can be an interesting destination for some time out with family. Trains run on tracks that are two miles long, stopping and various stations for you to check out the history of railway system the U.S. There are shows kids can watch and learn more about the various eras of locomotives.
Kings Island
There is another amusement park at Kings Island and it is really big. This amusement park is more popular and is accompanied by a huge waterpark called Soak City. Amusement Today has ranked "Planet Snoopy' to be the Best Kids Area year after year since last 12 years. Apart from the amazing rides, there is pizza and ice cream which the kids love here.
Newport Aquarium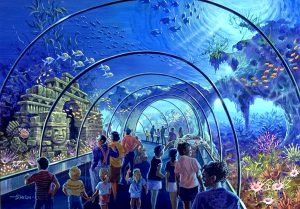 We get to see quiet aquariums everywhere with small colorful fish swimming in them. Newport Aquarium houses sharks that can be met in Shark Central. Not only that, it also has a rope bridge over an open shark tank which is completely safe but quite an adventure to cross. If you want to make friends with one of the biggest alligators, do visit Gator Alley.
Duke Energy Children's Museum at Cincinnati Museum Center
There are very few children's museums in the country and Cincinnati, Ohio has one of them. Young children often get bored by looking around and need some activity to keep them engaged. This place has sufficient activities to keep them physically engaged while learning new things all the time. This museum has two sections that are dedicated to pre-school kids so if you have a family member from that age group, Duke Energy Museum becomes a must-visit attraction in Cincinnati.
The attractions you choose to include in your trip would largely be determined by the interest of your kids and other members that join the trip. Beach waterpark, Behringer-Crawford Museum, Science museum, art, music and sports related attractions are all available in Cincinnati.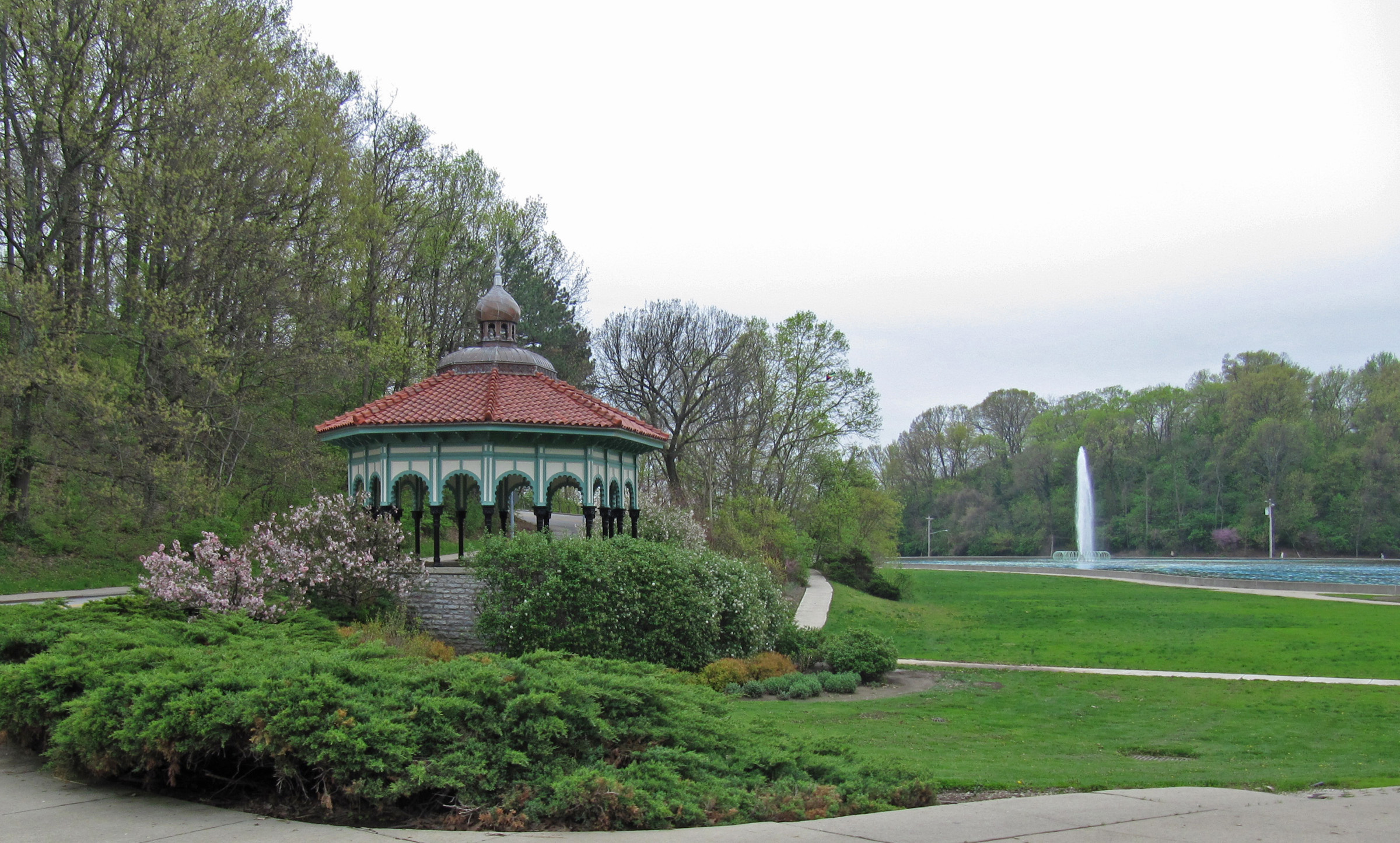 Cincinnati is one of the most picturesque cities in US owing to its architecture, mural paintings or simply the natural scenic views. There are many places where you can spend your time and money in Cincinnati and here are some suggestions for places to visit if you want to have some memorable views and photos.
Eden Park
Cincinnati is a city full of parks and Eden Park is one of the biggest parks with most facilities. It encompasses the Art Museum, Krohn conservatory, Mirror Lake, Bettman Fountain and many more noteworthy attractions. It offers great view to the Ohio river along with the Twin lakes and a footbridge. The park has gazebos, picnic areas, paths and tree groves and a 172 feet high water tower which contribute to a great fun filled day and an amazing view.
Devou Park
Behringer-Crawford Museum is an interesting place to visit, especially if you are with kids and Devou Park can be enjoyed later. It has sufficient area for the kids to play and offers beautiful view of the city irrespective of where you are in the park. It has picnic and fishing facilities, a special scenic overlook area, theatre and symphony sections, tennis court and golf course. What more can you ask for from a park?
Incline Public House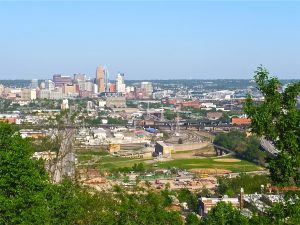 If you love food and heights, this is the place where you can have both. The city view is always spectacular from a height and there is a variety of drinks and food to choose from while you enjoy the view. They have a brick oven and serve the best pizzas, sandwiches, fresh fruit juices, alcoholic drinks from local breweries and few other cocktails and wines. The Ohio river and Cincinnati Downtown both are visible from their deck of 1400 square feet.
Carew Tower Observation Deck
Wouldn't you want to shop in a building that is also a National Historic Landmark? Yes, the Carew Tower Observation Deck is the best place in Cincinnati where you can shop to your heart's content and enjoy great views at the same place. There are 49 floors in this building that was built in 1930 and hosts more than 25 stores to shop from in addition to restaurants and souvenir shop. The observation deck has a ticket of $4 and do check the timings on the day you visit.
Purple People Bridge
When you are tired after a day of walking around Cincinnati, Purple People Bridge is the perfect place to sit down and watch the sunset from top of the Ohio river. The bridge came into existence in 1872 and got its name from the purple paint coating on it. It used to allow other vehicles earlier and became accessible only to pedestrians from 2003. It acts a s a link between two states and is one of its kinds.
It is a convenient option to simply walk across the bridge to visit Newport on the Levee, Hofbrauhaus Sawyer Point, Montgomery Inn Boathouse BB Riverboats and Cincinnati Reds games.
Overall, Cincinnati is an aesthetically pleasing city, you get to see beauty everywhere you go. Some places are so amazing that you would want to visit them again and again.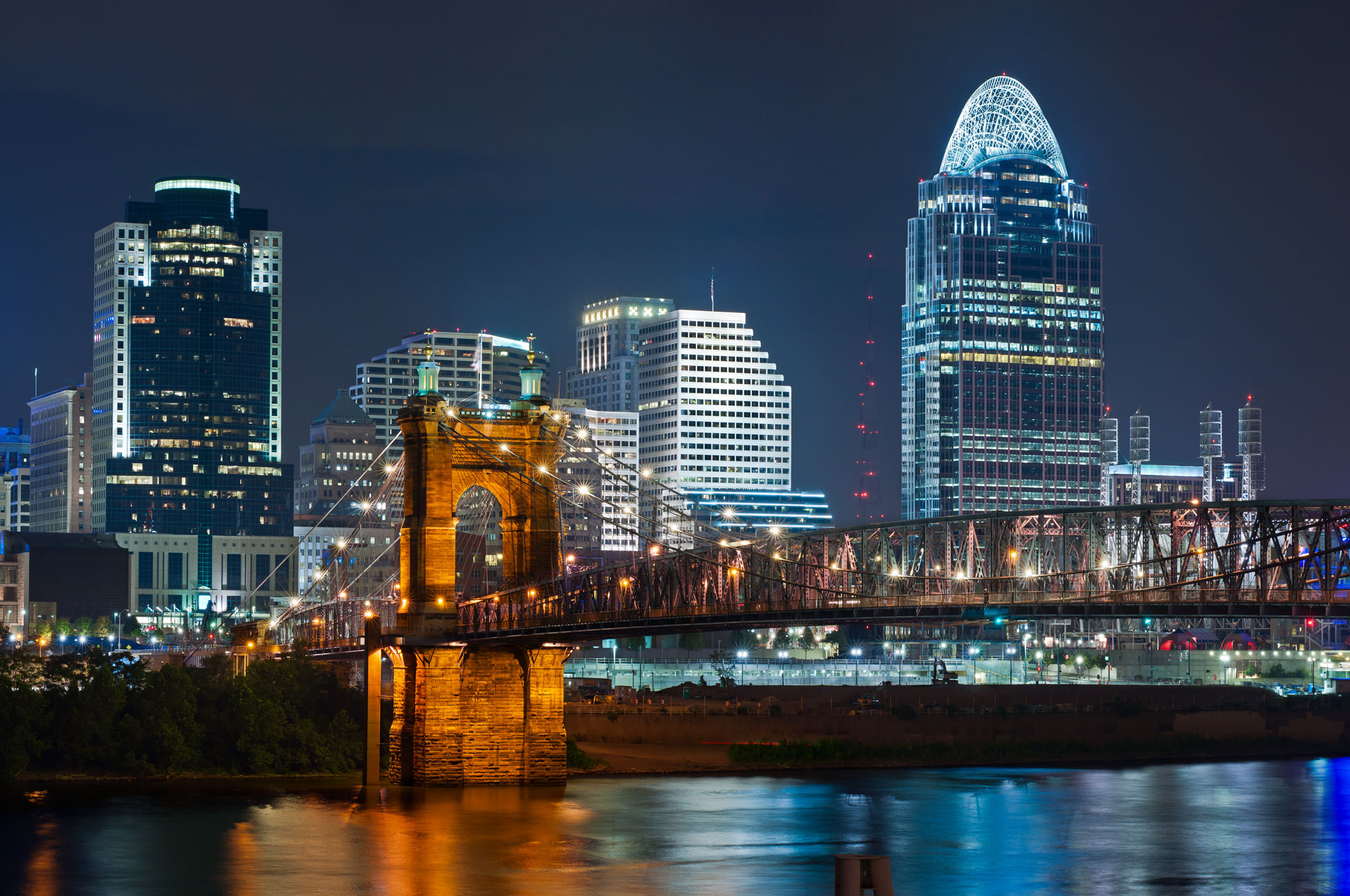 Whenever we plan a trip, travel and local transport are two very important aspects we consider. If these are not convenient, we not only spend more time but also more money in moving around. Luckily, Cincinnati is easy to get to and easy to get around in. Thanks to the infrastructure of the city, there are multiple ways to get around while you are staying there. If you chose to, you can save a good amount just by walking a bit instead of getting a cab for short distances.
Getting to Cincinnati, Ohio
Cincinnati, Ohio is well placed and hence very well connected to the rest of USA through five interstate highways and seven US highways. You can use a private car to reach Cincinnati in half a day from most of the cities. You can use Greyhound bus or a low-cost Megabus to reach Cincinnati from nearby states. If you want to use train service, use Amtrak's Cardinal Line. The train run thrice a week from NY to Chicago and stops at Cincinnati. Business, bedroom and coach seats are available as per your convenience.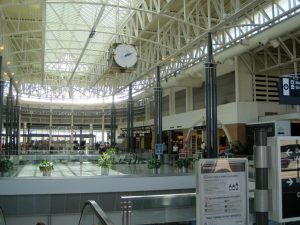 Cincinnati airport is not far away from the city and hence it is very convenient to reach Cincinnati by flight.The award-winning airport is actually located in Kentucky and is a hub for Delta Airlines and DHL courier services. It is connected to 37 other airports in the US and there are 170 daily departures. The airport has won Skytrax World Airport Award for the Best Regional Airport in North America. The connectivity is very good and you can find ample flights from your city to Cincinnati with one to two hours of flight time.
Getting Around in the Most Walkable City in Ohio
Cincinnati is the most walkable city in Ohio and you can see for yourself on the streets. Most people in Cincinnati either walk or ride a bike for daily commute as well. You can easily get a bike and will find ample space to park it, everywhere you go. There are many bike trails surrounded by nature which can be used for a pleasurable ride. You can use red bike because it has 50 outlets in Cincinnati and is very reasonable.
The city has pathways, trails and 400 sets of stairs which are called Steps of Cincinnati. Being a city of hills, steps are very convenient for pedestrians to connect to neighborhoods. Not only that, using the steps also brings out the natural beauty of the city as you get scenic views of the city from the top.  Other than this, mostly private vehicles are used even though buses are also available.
You can also use Cincinnati Bell Connector which is a steer car, metro or tank based on your convenience. Taxi service is also available for those who prefer not to walk or wait for a bus. When you plan a trip to Cincinnati, Ohio, you need not worry about the travel expenses. There are multiple inexpensive methods to travel in and around the city.  If you are fit enough to walk, climb and ride a bicycle, most of your movement is covered.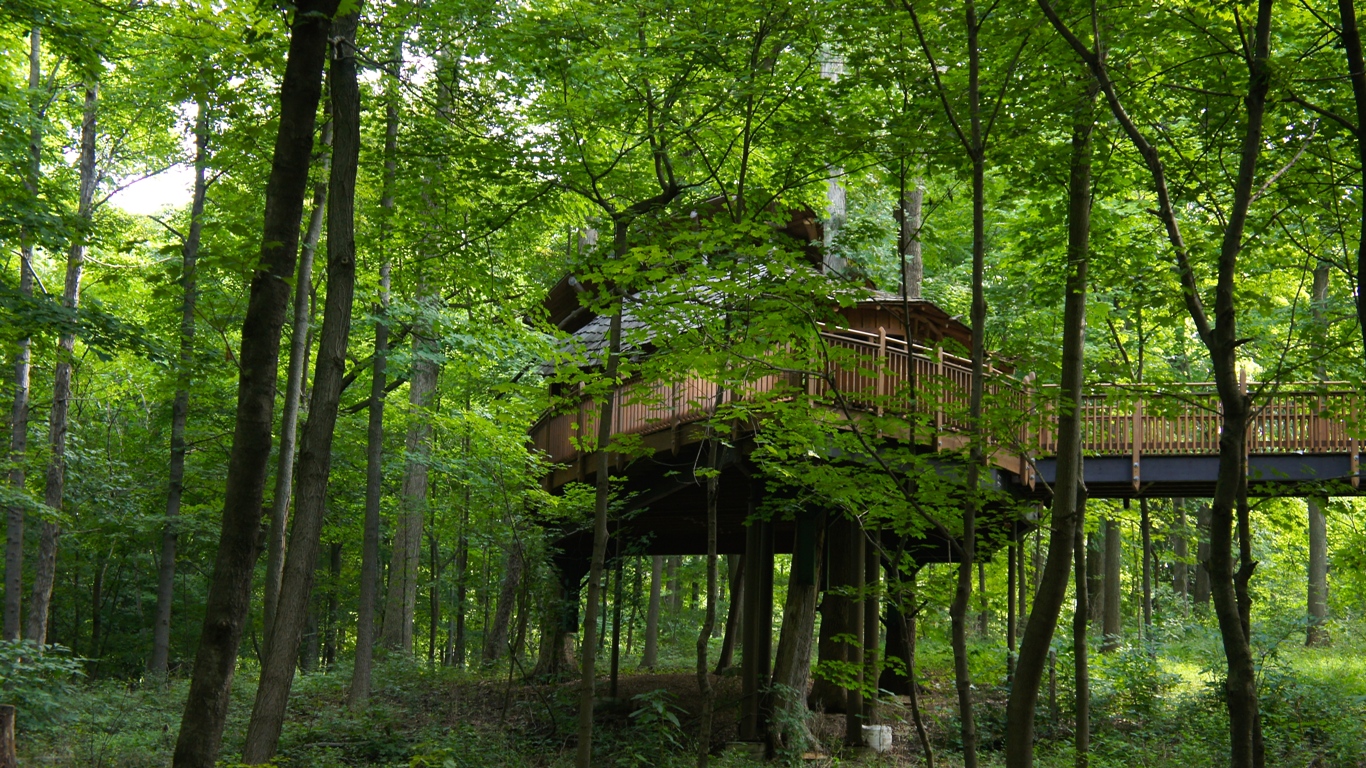 If you are craving for some sunshine, Cincinnati can be a great choice for a vacation. There are parks, biking trails and sports activities that can keep you physically occupied and even exhausted. There are a lot of options in Cincinnati to explore and have fun in open air.
Public Parks and Nature Centers
There are many public parks in Cincinnati that cover as much as 10% of the land and hence are conveniently accessible to all citizens. Mostly all parks have shelters and picnic areas, playgrounds, pathways and nature centers. Ault park is one of the premier ones with extra features and hosts July 4th celebrations, private parties and weddings etc.SmaleRiverfront parkhas enough things to do for one full day. It looks beautiful even at night.
Mt. Airy Forest is the biggest park of Cincinnati spread across 1500 acres. It has hiking and horse riding trails that stretch up to miles. It has provisions for camping, picnic, barbeque and forest lodges too. It also provides wheelchair access to its tree house and has an enclosed dog park for your pets. Mt. Airy has the most beautiful plants and trees that are blossoming with fruits and flowers. There are provisions to conduct weddings too because of its beautiful view.
There are five nature centers in Cincinnati, each with its unique offering to the flora and fauna of Cincinnati area. You can learn about plants, flowers, animals, birds, fishes and butterflies through amenities Museum, fishing lake, nature library etc. Many areas in these centers are wheel chair friendly and offer full access to students having mobility issues. Anyone having interest in nature and history of Cincinnati, can spend a lot of time in researching and educating oneself through these nature centers.
Sawyer Point Park &Yeatman's Cove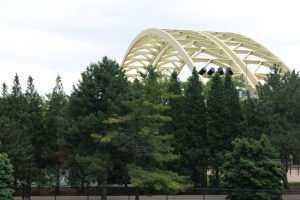 Cincinnati owes a lot to the Ohio river on whose banks it is developed. It has a flood column and there is a golden arc at the top of the flood column. There are four pairs of smokestacks along with a canal, Cincinnati arch and seven hills. A stairway is made in the form of a serpent and the source of Ohio river is at the top of these stairs.
Hiking and Bike Trails
Cincinnati is pedestrian friendly and there are enough trails for biking too. Ohio river trail is 23 miles long and connect many important places in Cincinnati. Many tourists as well as locals use bicycles for commute because it is healthy, environment-friendly and economical. Groundwork Cincinnati is a non-profit that supports biking to using any other mode of transport. Queen City-South Mill Creek Greenway Trail is mostly taken care by this organization. Little Miami Scenic Trail is 76 miles long and runs across five counties.
You can take helicopter tours of the city through Stratus Helicopters. They also offer helicopter flight lessons for those who are deeply interested.There are plenty of options for those who love baseball, football, hockey and tennis to play and watch in Cincinnati. If you love to stay outdoors, Cincinnati is a great place to be.
What is there to do in Cincinnati?
The beautiful and vibrant city is situated in the heart of Ohio State, US. The location of the city is extremely scenic and full of attractions. As far as the amusing things are concerned, the choice is completely in your hands. There is an endless selection of different events and attractions available. The variety ranges from the fabulous amusement parks to professional sports activities. You can also choose from the different museums and 5-star dining with global appeal. Whatever your schedule and budget are, there is something waiting for you to make your travel unforgettable and mesmerizing.
What is the best time to travel to Cincinnati, Ohio?
Well, the place is tremendously beautiful. So, you can travel any time all year. But, to capture the attractions at their best, there are specific seasons for everything. For Example, you can beat the heat when sports activities are at their highest point during the summer. You can enjoy the baseball games of the local team Cincinnati Reds at the most popular park, The Great American Ball Park. The lovely park is situated on the riverfront and then turn next door to the Smale Riverfront Park.
You can also fill your life with the natural colors by viewing theincredible foliage. The entire view is just breathtaking from the fabulous BB Riverboats cruise. The best time to view all these fabulous views is late September and the beginning of the October. You canmake your holidays more memorable by visiting the famous Cincinnati Zoo and Botanical Garden. For this place, December is the most appropriate time.
Is this city is famous for any specific foods?
Yes ofcourse!Like other places, this gorgeous city is also popular for the food. There are lots of unique flavors available. The range includes Goetta, Cincinnati style chili, barbecue sauces and most popular French pot icecream. Even, the city is considered as the finest place to enjoy comfort food.The city is the fastest growing destination for foodies.
The city has countless options for dining. Due to the effective renewal of food-chain stores and restaurants, there are a plenty of options available to kill your hunger.You can enjoy both affordable and high-class dining in this city.
What are the best shopper points in Cincinnati?
Well, it is all your choice because the stylish city also offers the same trends to you. Whether you are searching affordable deals on popular brands or antique pieces or you want something authentic Cincinnati, the city has everything for you. You can start for the day and walk around at the local outlet stores, boutiques and shopping centers. If you are a Shopaholic, you can even explore more. There is an assurance and it is you won't go house empty-handed.
Findlay Market is the oldest and most cherished market in the entire state. To buy handmade stuff, the place has been the just right. Liberty Center is another good option to enjoy the complete package of shopping, relaxing, food and entertainment. There are many retailers available, including H&M, Old Navy,Hollister, Buckle and lots more. Over and all, you can feel the best shopping experience here in Cincinnati.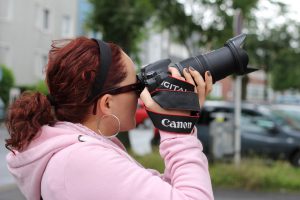 Hey there! If you are wondering, if Cincinnati is the place to go, please take a while for a quick "rollercoaster" by reading about its attractions below. Cincinnati, originally Losantiville ( meaning "opposite of the mouth of the river"), is a city beautifully placed by the Ohio river in the south-west side of the Ohio state in the U.S.A. and it has much to offer to its visitors.
If you are hungry for a good breakfast, it is always a good idea to visit Sugar N' Spice, a place with tradition, that lasted for more than 70 years and not without a good reasons.
If you already read The Cincinnati Enquirer, the noon has become a past or you simply want to eat something tasty, you should definitely go to the Findlay Market, Jungle Jim's International Market. If you like chilli, try Price Hill Chili, Skyline or Gold Star. Gourment pizza is Dewey's domain and you can taste wide variety of grilled cheese at Tom + Chee.For the desserts it is always a good idea to go to the Greater's – best ice cream in The Queen City.
For those, who like beer it is good to know that Oktoberfest Zinzinnati takes place in Cinci and that there are various local breweries like Christian Moerlein, Hudepohl and Carmel Brewing Company. You can also take one of Cincinnati's Original Brewery Tours into the underground places of the breweries.
There are many pubs in Cinci, open with all their goods, among more known are the Nicholson's Tavern & Pub, Molly Malone's Irish Pub & Restaurant and Taft's Ale House.
If you like Halloween, visit Cinci with your best outfit for the Run Like Hell event – the massive Halloween event, after which you may count on a good after party.
The sports events play important role in Cinci. The opening day for the Cincinnati Reds plays important role in the city's culture. You can also come to see the ATP/WTA tennis tournament, Kentucky Speedway, Cincinnati Roller Girls, Bengals and Cyclones.
Cincinnati Art Museum is one of the oldest art museums in the U.S.A. (founded in 1881). Just to name few cultural locations: Cincinnati Opera placed in Cincinnati Music Hall, Aronoff Center, Cincinnati Symphony Orchestra and, last but not least, Cincinnati Museum Center.
If you would like some more cultural experiences then it is good to know that there is Playhouse in the Park theatre, located in Eden Park, comprising Robert S. Marx Theatre and Thompson Shelterhouse. There is also the Esquire Theatre, where you can see the latest independent features or midnight showings.Fans of The Ides of March, Traffic and Rain Man movies will recognize various places of Cinci, a place that had Jerry Springer as its mayor.
After reading all the above you see that Cincinnati has much to offer. If you got interested, then if you get close to Ohio, come visit Cinci and enjoy.